Sames Corpus Christi - Ford X-Plan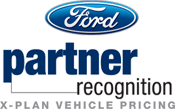 The Company you work for may qualify for X-Plan !

There Is No Cost! - No Obligation! - Save Money!


Contact Us to activate your Ford X Plan benefits.
Schedule and meet your Ford X Plan representative.
Select your new Ford vehicle.
Receive your Ford X Plan Partner pricing. What is Ford X-Plan Pricing?
Ford Partner Recognition (X PLAN) pricing is a pre-determined, below market value price established by Ford Motor Company, not the dealership. It is printed on the factory invoice. This program was developed to reward the employees of certain suppliers, fleet customers, higher learning institutions, organizations and business partners. Additionally, friends and neighbours of Ford Motor Company employees qualify for this program when sponsored by a Ford employee.

Who's Eligible for Ford X Plan Pricing?

Employee's (full time, part-time and contractor), retirees and their spouses of eligible partner companies and universities where Ford recruits. Members, customers and spouses of selected organizations/associations with close strategic ties to Ford Motor Company. Selected individuals sponsored by a Ford Motor Company employee or retiree through the Friends and Neighbours Program. Participation is by invitation only, not all suppliers, fleets, etc are eligible.

What do you get with Ford X Plan?

Thousands of local residents qualify for Ford Motor Company's "Ford Partner Recognition Program" and aren't aware of it. This program is better known as Ford X Plan pricing, which could save you hundreds if not thousands of dollars.

Let us help you determine if you qualify for Ford X-Plan pricing.

Contact the internet department at 1-866-502-0587 or email us with the Quick Quote Form to the right.

Ford X Plan Pricing - A pre-determined below market value price established by the Ford Motor Company. This price is clearly marked on the factory invoice. Factory Incentives - All factory Rebates and/or Special Interest Rates are passed on to the Ford X Plan customer. Additional Ford X Plan Incentives - Periodically, Ford offers additional incentives to the X Plan customer that are not available to the general public.

How do I Participate?

It's as easy as contacting us at Sames Corpus Christi for the details. Call 1-866-502-0587 or email us at e-sales@sames.net.